The Concept of the Disease
In normal lymphoid tissues, germinal centres are formed by B-cells responding to antigenic stimuli. Through rapid cellular proliferation, with mutation and rearrangement of immunoglobulin genes, the population of B-cells that can respond to the antigen is expanded and the affinity of the antibodies increases. This is a pivotal step in the normal immune response.
Follicular lymphoma is a tumour of germinal centre cells. The tumour cells share many of the features of B-cells in the normal germinal centre.
How is it Diagnosed?
Lymph Node Biopsy
Cells with the morphology of germinal centre cells forming structurally abnormal B-cell follicles and spreading into spaces normally occupied by other cell types
Identification of an abnormal germinal centre phenotype by immunocytochemistry or flow cytometry; most importantly, demonstration of abnormal expression of the anti-apoptotic protein BCL2
Demonstration of B-cell monoclonality
Demonstration of a t(14;18) translocation which deregulates expression of the BCL2 gene
Lymph Node Morphology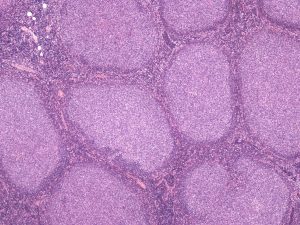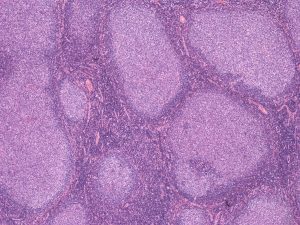 Bone Marrow
The bone marrow is frequently involved in follicular lymphoma
Tumour cells tend to aggregate close to bone
Bone Marrow Trephine Morphology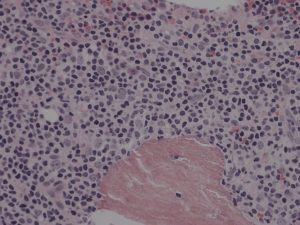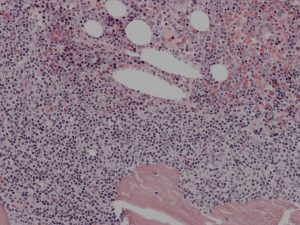 What is the Clinical Outcome?
The clinical outcome is highly variable; treatment is given primarily on the basis of symptoms and 75% of patients will survive for more than 5 years.
Many patients require no immediate treatment or receive local radiotherapy only.
Most symptomatic patients have a prolonged period of remission when treated with R-CVP or R-CHOP.
A minority of patients have progressive or rapidly relapsing disease. In some cases the tumour undergoes a qualitative change with transformation to diffuse large B-cell lymphoma.
The standard assessment of prognosis is the follicular lymphoma international prognostic index (FLIPI).
| | |
| --- | --- |
| Score | FLIPI Risk Group |
| 0 – 1 | Low |
| 2 | Intermediate |
| ≥3 | High |
| | | |
| --- | --- | --- |
| Risk Factor | Score +0 | Score +1 |
| Age (years) | ≤60 | >60 |
| Stage (Ann Arbor) | I or II | II or IV |
| Number of extranodal sites | 0 or 1 | >1 |
| Performance Status (ECOG) | 0 or 1 | >1 |
| Serum LDH | Normal | Raised |